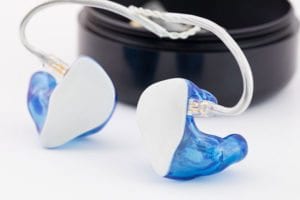 Healthy ears need protection from hearing loss. We can help with that.
We offer custom hearing protection and devices, from children's and adult swim plugs to musician's filters and in-ear monitors.
Musician's earplugs by Etymotic are custom earplugs that protect hearing while preserving the subtleties and richness of music. Other earplugs, particularly foam, muffle sound so music and speech are not heard distinctly. Musicians' earplugs are the combination of a specially-constructed custom mold and filter. Music and speech reproduced through these earplugs sounds as it would in an ear without an earplug, but at a lower (safer) level.
The DefendEar Digital in-ear monitor is ideal for the first responder or sportsman. The shooter filters allow for clear communication, while the state-of-the-art digital technology instantly suppresses the impulse noise of a gunshot. This blocks harmful sounds (gun shots) while maintaining situational awareness. Additionally, the adjustable digital amplification boosts low-level sounds for detecting game moving through leaves and undergrowth while the low-profile design provides effective comfort to the wearer.
Contact us for more information about the ear protection you need to maintain your hearing health.